CROWN Custom Tokyo Marui Hi Capa 5.1 Gas Blowback Pistol
CROWN Custom Tokyo Marui Hi Capa 5.1 Gas Blowback Pistol
This custom Hi Capa is designed to be the Crown jewel of any airsoft arsenal. Decked out in a striking black and gold color scheme, and featuring a ton of powerful upgrades, this handgun will destroy your opponents just as easily as it will impress them.
This gun has been upgraded with an Airsoft Masterpiece threaded steel outer barrel as well as a Guarder infinity slide to improve the look and feel of the gun as well as allow for increased attachment options. We've also added an Edge Custom Type 3 flared magwell and a JL Precision magazine baseplate to make tactical reloads a breeze. The Nine Ball Omega trigger we've installed adds a pop of color while also making all your trigger pulls feel crisp and snappy. The upgraded fiber optic sights we've installed are easy to acquire, allowing you to improve your speed and accuracy while aiming.
Internally this gun features several improvements. The Guarder 150% recoil and hammer springs we've installed will improve your cycle speed and increase reliability; while the Maple Leaf hopup unit and hopup wheel, Crazy Jet inner barrel, and Maple Leaf 70 degree bucking will improve your accuracy and consistency.
Make this handgun the Crown jewel of your collection, and destroy the competition in style.
Features
Airsoft Masterpiece .45 ACP Threaded Fixed STEEL Outer Barrel Gold
JL Progression MagShoe Aluminum Magazine Base Plate Black
Airsoft Masterpiece Fiber Front Sight
Nine Ball "Omega" Custom Round Trigger Gold
Guarder 150% Recoil and Hammer Spring Kit
Guarder 4.3 Infinity Slide
AIP Aluminum 4.3 Recoil Spring Guide Plug Gold
Dynamic Precision Type C 14mm CCW Stainless Steel Thread Protector Gold
Dynamic Precision 11mm CW to 14mm CCW Stainless Steel Thread Adapter Gold
EDGE Custom Type 3 Magwell Gold
Maple Leaf Hop Wheel
Maple Leaf Hop Up Set with Base, I Key, and Arm
Maple Leaf Crazy Jet 100mm Inner Barrel
Maple Leaf Decepticon 2021 Silicone 70 degree Hopup Bucking
20mm frame integrated accessory rail (for flashlights, lasers, etc)
Powerful blowback
High-capacity 28 round magazine
Specifications
Overall Length: 7.83 inches
Weight: 1 lb 14 oz
Inner Barrel Length: 95 mm
Muzzle Velocity: 280 - 300 fps
Gas Type: Green Gas
System: Gas Blowback
Color: Black
Magazine Capacity: 28 rounds
Package Includes: Pistol, 1 magazine
You may also like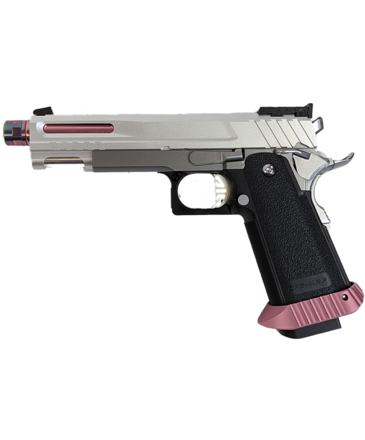 $604.91
Custom silver and pink TM 5.1 Hi Capa for the regal wielder.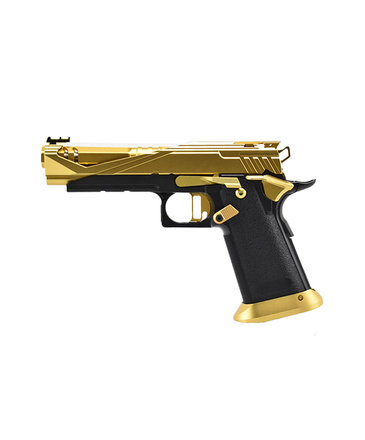 $699.99
"EL JEFE". The El Jefe of the field.
© Copyright 2023 Airsoft Extreme

|

Designed & Customized by AdVision

|

Powered by Lightspeed