Demon Killer Capa "Inosu" Custom Tokyo Marui Hi Capa 5.1 Gas Blowback Pistol
Demon Killer Capa "Inosu" Custom Tokyo Marui Hi Capa 5.1 Gas Blowback Pistol
This custom Tokyo Marui Hi Capa is one of our unique collection of Kimetsu No Yaiba series pistols.  The color scheme and layout seek to represent the heraldry and elemental skills of the character represented on the grip.  Highly customized, properly tuned, and fully tested, this custom Hi Capa is built to perform as well as impress.
Features:
Tokyo Marui HI CAPA 5.1 gas blowback (GBB) pistol, silver
EDGE Custom "GIGA" standard slide, blue
Airsoft Masterpiece .45 ACP stainless steel outer barrel for Hi Capa 5.1, gold
EDGE Custom Type 3 magwell for Hi Capa 5.1, gold
CowCow T1 aluminum adjustable trigger for Hi Capa, silver
CowCow Hi Capa polymer grip
Abunai Supply textured grip graphics
EDGE Custom Hard Rod 5.1 guide rod, silver
Maple Leaf aluminum hop up unit with I-key and steel hop up arm
Maple Leaf brass 360 hop up adjustment wheel
Maple Leaf Autobot silicone bucking, 70 degree
Maple Leaf Crazy Jet 117mm inner barrel
EDGE Custom "Inch Perfect" 130% recoil spring
Specifications:
Overall Length: 8.75 inches
Weight: 34.2 ounces with magazine
Inner Barrel Length: 117mm
Muzzle Velocity: 300-330 fps with 0.2g BBs (depending on ambient temperature)
Gas Type: Green gas only
System: Marui gas blowback
Color: See photos
Magazine Capacity: 31 rounds
Package Includes: Pistol, one magazine
You may also like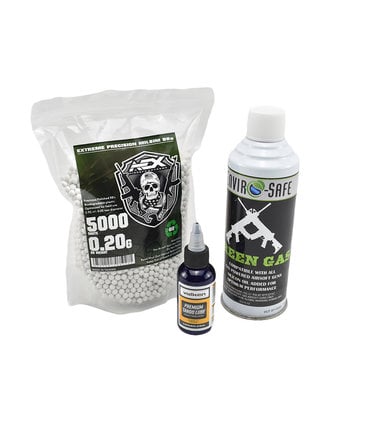 $29.99
Green Gas Pistol Beginner Package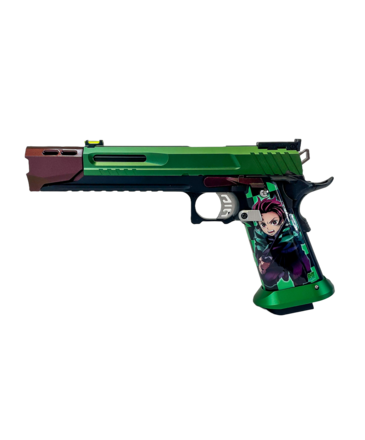 $939.00
"Use your head, not just spirit"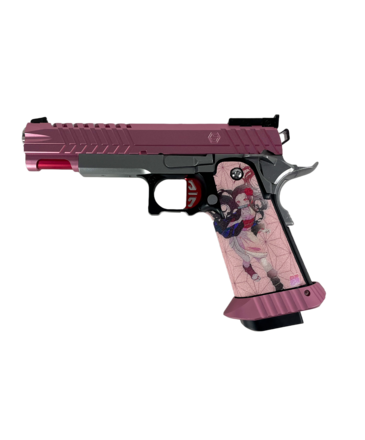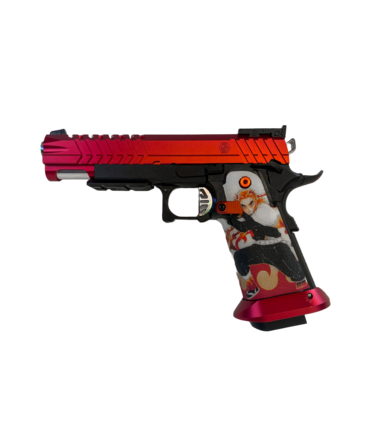 © Copyright 2023 Airsoft Extreme

|

Designed & Customized by AdVision

|

Powered by Lightspeed