EDGE Custom Ultra Light Aluminum Ver.2 Standard Blowback Housing for Hi Capa
EDGEBBH2GN / EDGE-BBH2-GN
EDGE Custom Ultra Light Aluminum Ver.2 Standard Blowback Housing for Hi Capa
The Hi Capa family of pistols is known to be highly upgradeable and has a vast amount of aftermarket parts to enhance their performance and looks. Airsoft Masterpiece brand has been making a large number of accessories and upgrade parts for the Hi Capa giving players many options on how they want to build up their pistols. The Airsoft Masterpiece Edge line of blowback housings being made out of lightweight aluminum greatly reduces the weight inside of the Hi Capa slide, cycling quicker and reducing gas consumption.
On top of that, the Airsoft Masterpiece EDGE blowback housing comes with a lower profile O-ring to reduce the amount of drag against the nozzle but keeping the same air seal you want. The Airsoft Masterpiece EDGE blowback housings is a highly recommended upgrade if you want to enhance your Hi Capa to the next level of performance.
Features:
CNC Lightweight Aluminum Construction
Just 15.9 grams
Improved Gas Efficiency
Smooth motion and Quick Blowback
Anodized finish
Specifications:
Compatibility: Tokyo Marui, and some Hi Capa style pistols
Colors: Black, Blue, Gold, Green, Orange, Purple, Red, Silver, Grey
Material: 7075 Aluminum 
FOR TOKYO MARUI HI CAPAS ONLY
You may also like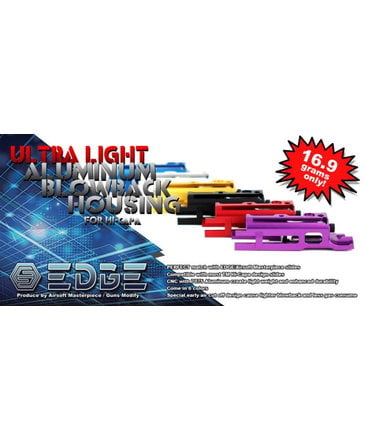 $38.99
New lightweight EDGE series design by Airsoft Masterpiece and Guns Modify. Compatible with Tokyo Marui, Airsoft Masterpiece, and EDGE series Hi Capa slides. Ultra-lightweight build combined with early gas cutoff design gives you a lighter blowback action.
EDGEBBHLBBL / EDGE-BBHLB-BL
© Copyright 2023 Airsoft Extreme

|

Designed & Customized by AdVision

|

Powered by Lightspeed