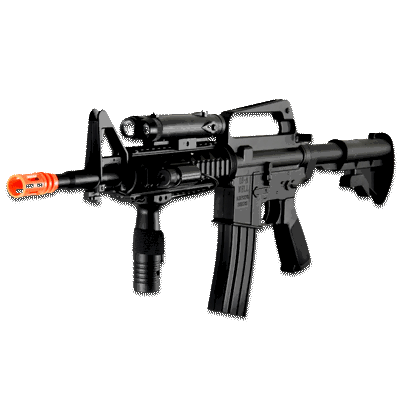 What are airsoft guns and what are they used for?
Airsoft guns are replica firearms that shoot a non-lethal 6mm plastic or biodegradable BB (however, they can cause serious injury if misused). Airsoft guns are generally the same size and weight with many features that replicate their real counterparts. Airsoft guns are used mostly in wargames similar to paintball and have been around just as long as paintball originating in Asia. Airsoft guns are also used in theatrical settings such as movies, plays, and advertisements. Plus, they are used for training in Military, martial arts, and Law Enforcement agencies all over.
Airsoft Gun types:
Spring-powered - airsoft guns manually powered by a pull back the action for each shot, like a pump shotgun or bolt operated sniper rifle. These are typically less expensive and are great starter airsoft guns.
Electric-powered - airsoft guns powered by a rechargeable battery and use a gearbox (or mechbox) with internal gears, piston, motor and spring inside the gun that produce the power to shoot the BB's. These are mid to high range in price and are mostly used for wargaming. 
Electro-pneumatic - airsoft guns powered mainly by an external gas source (usually HPA) and use a fire control electronic system to fire the gun and adjust the rate of fire. These are popular for their ability to have high rates of fire and consistent velocity and usually are a custom-built airsoft gun.
Gas-powered - airsoft guns that use a compressed gas system to project the BB's and typically use green gas/CO2 cartridges or sometimes external gas such as HPA or CO2. There are several types: internal gas or external gas guns and blowback and non-blowback. Gas-powered blowback airsoft guns are usually more realistic and have a working action that blows back and reloads the gun like the real thing.
© Copyright 2023 Airsoft Extreme

|

Designed & Customized by AdVision

|

Powered by Lightspeed