DCI Guns Nylon Hybrid Fiber Sight Set
4580083311072 / HVST-DE-IM
DCI Guns Nylon Hybrid Fiber Sight Set
Adopted high performance phosphorescent material
It is made of luminescent acrylic with extremely high visibility and lingering light.
Illuminated by a flashlight for only 3 seconds, it is possible to see the site in the dark for more than 1.5 hours. It is the best in the world. It is incomparable to the luminescent sight that comes with commercially available luminescent paint and Tokyo Marui M&P9 V Custom. This material is very expensive in proportion to its high performance, but we have adopted this special material without compromise in order to obtain high visibility and afterglow. No radioactive materials such as tritium are used.
Excellent strength and appearance due to new manufacturing methods and new
materials
resulted in an overwhelmingly stronger and more durable product than conventional FDM 3D printed products. The appearance of this product has been achieved. We recommend this product for users who use it hard or are particular about the appearance. Material: Glass bead reinforced nylon. Manufacturing method: Multi jet fusion

By combining the light-harvesting sight and the luminescent site as a set, all kinds of light conditions are possible. This sight allows for quick and accurate sighting. The shape of the attachment part is interchangeable with the factory, so it is easy to install.
High light gathering performance and visibility
Laser cut concentrator acrylic used by a laser processing machine! The smooth cut surface makes it very bright and highly visible. In order to obtain high light gathering performance, a bold three-sided lighting design is adopted.
Specifications:
Material & Manufacturing Method
Multi Fusion Jet (3d printing) PA12GB (PolyAmide 12 Glass Beads)
Metal Inserts (except for G18C GBB, G18 AEP, XDM, G17 and others)
This sight set is using metal inserts for a safe and easy installation on the slide.
Acrylic Fiber
The acrylic fiber sticks are cut with a laser for a better light conduction.
Phosphorescent Material
The dots are made with phosphorescent acrylic material. Lighting it for 15 seconds will suffice to make it glow for 1 hour and a half (90 minutes).
You may also like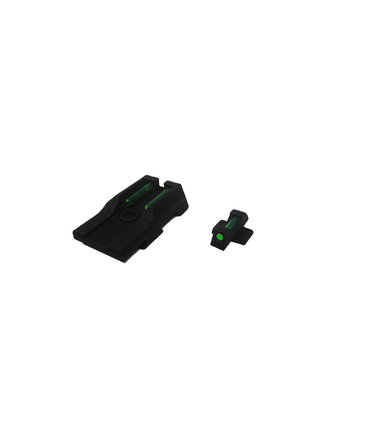 $29.99
4580083311140 / SKST-DE-IM
© Copyright 2023 Airsoft Extreme

|

Designed & Customized by AdVision

|

Powered by Lightspeed