ICS Hi Capa Challenger Green Gas Blowback Pistol
ICS Hi Capa Challenger Green Gas Blowback Pistol
Precision and Performance: With the ICS Hi Capa Challenger Green Gas Blowback Pistol, experience unmatched shot-to-shot consistency thanks to the TDC Hop-Up Chamber. The Master Mods R-Hop System significantly increases the range, providing superior performance.
Pre-upgraded Design: The ICS Challenger, a Hi-Capa-style pistol, comes pre-upgraded with high-performance parts, making it field-ready straight out of the box. No additional work is needed by the player, saving time and effort.
Enhanced Gas Efficiency: The REVO.II High-Performance Valve System greatly improves gas efficiency and reliability, offering up to 30% more gas volume.
Customizable Features: The pistol has an adjustable trigger and 3-dot Luminous Sights for improved accuracy. Moreover, it's fully compatible with TM-spec Hi-Capa parts, allowing players to make any desired changes.
Features
TDC Hop-Up Chamber for shot-to-shot consistency
Master Mods R-Hop System for increased range
REVO.II High-Performance Valve System for improved gas efficiency
Steel fire control system parts
Adjustable Trigger
RMR & DOC Mount
3-dot Luminous Sights
TM-compatible
Specifications
Overall Length 8.7 inches
Weight 2.1 lbs
Outer Barrel Length 4.4"
Barrel Thread Steel 14mm CCW Barrel Adapter
Inner Barrel Length 113mm
Inner Barrel Diameter Data not provided
Muzzle Velocity 312 fps with 0.20g bbs
Gas Type Green Gas
System Gas Blowback
Color Black
Magazine Capacity 30 rd Green Gas Magazine
Package Includes Gun, 30 rd Green Gas Magazine
Player Package Adds:
ICS Hi Capa Challenger 30 rd GG Mag
Amomax Multi-Fit Holster RH Black
AEX 0.20g 5000ct Bio BBs
Green gas
Valken 2oz Silicone Lube
You may also like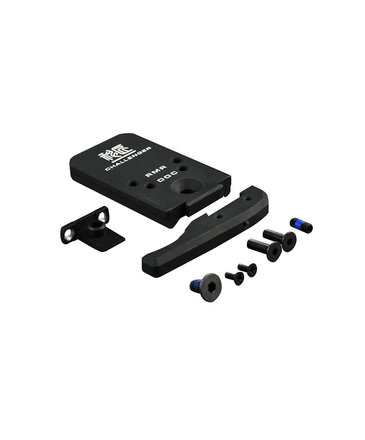 © Copyright 2023 Airsoft Extreme

|

Designed & Customized by AdVision

|

Powered by Lightspeed