Polarstar Compact Regulator High Power (HP) Spring - 200 PSI (Micro Regulator, UGS, and CGS)
Polarstar Compact Regulator High Power (HP) Spring - 200 PSI (Micro Regulator, UGS, and CGS)
The Compact Regulator High-Pressure spring is compatible with both first and second-generation Micro Regs as well as the UGS and CGS systems. Changing out the spring can be done in a matter of minutes and will safely increase the output of your regulator to ~200psi while still retaining the ability to operate at 40psi.
Although some pressure gains can also be accomplished by shimming the original spring, changing the spring is more beneficial than the typical shim method. When a spring is shimmed, the whole pressure range shifts up so you lose your low-end pressure range. By simply changing the spring's rate, the regulator still has the ability to operate at 40psi. Even though the high-pressure spring will technically not allow the regulator to recharge quite as quickly at that low pressure in comparison to the standard spring, at conservative rates of fire it is not going to be noticeable.
Please note:
Output pressure will vary depending on the output pressure of your HPA tank so an SLP will produce a slightly lower maximum pressure than a standard 850-900psi HPA tank.)
In the case of first-generation Micro Regs, if your gauge has a maximum reading of 160psi on the dial you will need to replace it with a Polarstar 220psi gauge in order to use the regulator at higher pressure without damage to the gauge.
Features:
Spring swap easily done in minutes
Increases maximum output to 200 PSI
Maintains low-end output of 40 PSI
Compatible with P* Micro Reg, UGS, and CGS
You may also like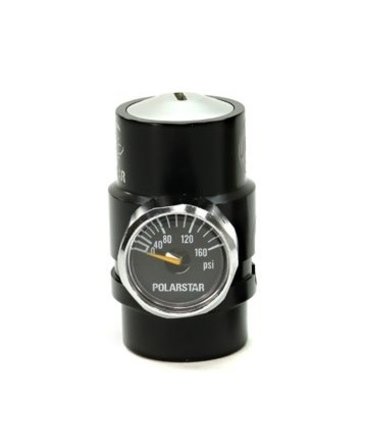 © Copyright 2023 Airsoft Extreme

|

Designed & Customized by AdVision

|

Powered by Lightspeed