ASG Steyr AUG A2 Airsoft Electric Rifle Sportline
ASG Steyr AUG A2 Airsoft Electric Rifle Sportline
The Steyr Aug is well known in the firearms world for its bullpup design, offering a long barrel for range and accuracy by putting the action behind the trigger, and making the receiver compact for the user to give the shooter a smaller profile.
The ASG Steyr AUG translates the same concept to its airsoft version, giving the player a long inner barrel while the gearbox is behind the trigger. The ASG Steyr AUG uses a standard V3 making it acceptable for upgrades, while also offering a dual-action trigger meaning when you half pull the trigger it shoots one round, and when you pull the trigger all the way down the gun will fire on full auto. If you are in the market for a bullpup that is easy to operate and brings a solid performance to your gameplay then the ASG Steyr AUG line is the way to go.
Features:
Bullpup design
Lightweight material
Dual-action trigger
Long inner barrel
Adjustable hop-up
Adjustable position foregrip
Specifications:
Overall Length: 31.8 inches
Weight: 7 lbs
Outer Barrel Length: 20 inches
Barrel Thread: 14 mm CCW
Inner Barrel Length: 509 mm
Inner Barrel Diameter: 6.08 mm
Muzzle Velocity: 330-360 fps
Fire Modes: Safe/Half-trigger pull Semi/Full trigger pull full auto
Color: Black
Gearbox: V3, 8mm
Magazine Capacity: 330 Round
Package Includes: Rifle, 1 Hi Cap Magazine, Manual, Battery, Charger
You may also like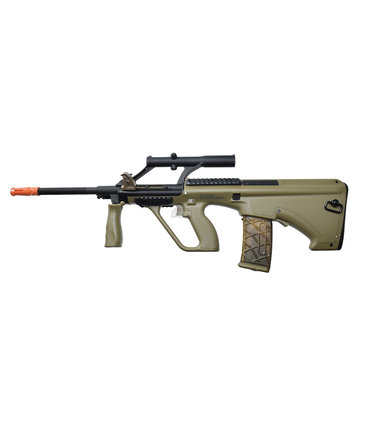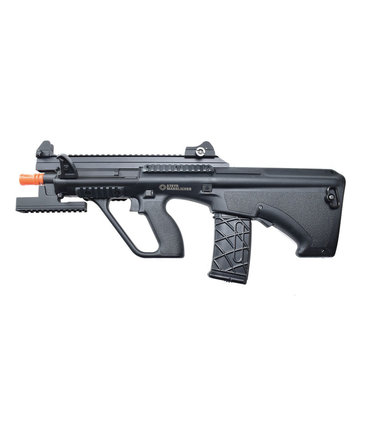 $234.99
Want an airsoft rifle that is in a bullpup configuration but is still compact for CQB environments? The ASG Steyr AUG A3 XS is packaged with a barrel that gives the gun accuracy and range while keeping the receiver compact and tucked in.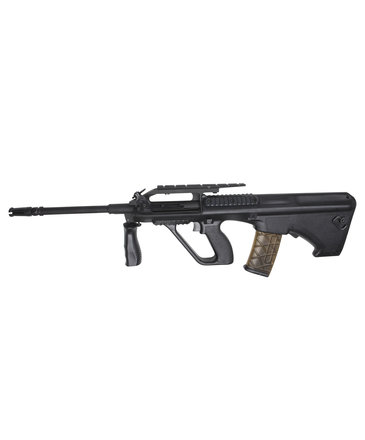 $149.99
Want to have a short to medium-sized rifle but also have a long barrel for accuracy? The ASG Steyr Aug line of guns provides you with the revolutionary bullpup design that gives you a long barrel but a small profile gun.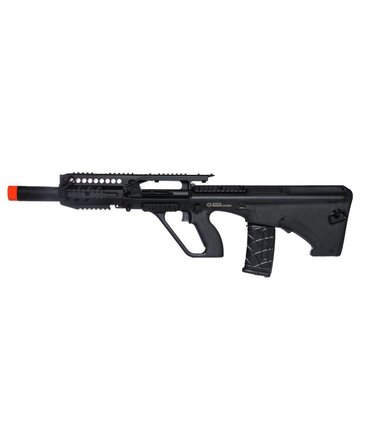 $229.99
Tired of looking at M4s? Then check out this AUG A3 fully licensed from Steyr Arms!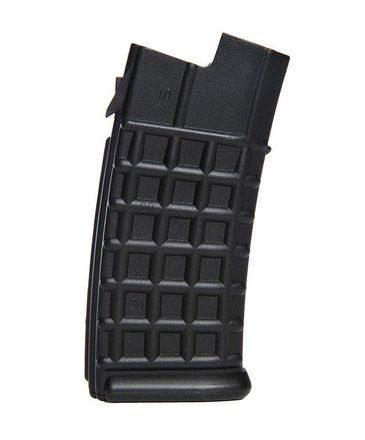 $14.99
- Affordable spare magazine
- Authentic waffle patterning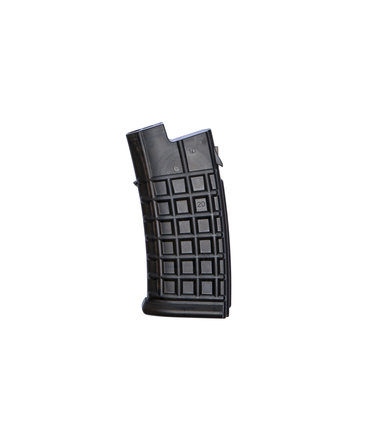 $12.99
- Suitable for any ASG AUG
- Translucent body, just like the real thing
- Consistent smooth feeding
© Copyright 2023 Airsoft Extreme

|

Designed & Customized by AdVision

|

Powered by Lightspeed