ASG Steyr Scout Sniper Rifle
ASG Steyr Scout Sniper Rifle
The Steyr Scout marksman rifle is the perfect solution for those wanting pinpoint airsoft accuracy in a compact package.
Our fully licensed replica is an exact 1:1 model of the famous precision rifle.  Designed to fulfil the criteria of legendary US Marine Jeff Cooper's 'Scout Rifle Concept' and produced by Steyr Mannlicher, the 'scout' is considered the 'perfect' compact precision rifle.  The Steyr Scout would later become a household name across the globe when it was featured in the hit computer game 'counter strike'.
This airsoft sniper rifle features a high-volume metal cylinder for maintaining high air pressure behind each shot married to a near silent cylinder and piston head. The Steyr Scout also utilises an easily adjustable hop up lever and a TDC adjustment to allow precision setting of the hop up and this rifle excels in lifting heavier weights of BB such a .36g and above.  Capable of taking up to an M190 spring, the Steyr Scout has a surprisingly light trigger pull for its power, further enhancing its accuracy as there is less disturbance to the rifle with each shot.
Externally, the rifle feature high quality polymer furniture that incorporates an integral fold down bipod that sits neatly within the receiver when not in use.  The high impact nylon polymer receiver features several QD sling mounts  for quick fitting of a sling and the rear of the stock houses a replica rifle magazine that is actually a concealed storage area for both the rifles actual magazine and any tools needed to adjust the replica.   A 20mm picatinny top rail allows the mounting of a plethora of optics and telescopic sights while flip up 'iron sights' are provided with the rifle.  Lastly the Steyr Scouts outer barrel features a 14mm CCW thread allowing you to fit a variety of barrel extension devices and tracer units.
Features
metal piston with dual rotary rings
Silent cylinder head and piston head with airbrake
9 mm stainless steel spring guide with rotary ring
Integrated bipod 
Enlarged volume steel cylinder 
Pressure lever and TDC for dual hop up adjustment system
Upgradable to M190 spring power
Hop up bucking   for 0.36g or above heavy BBs
Trigger with lightweight trigger pull
Adjustment tools stored inside the fake magazine
Backup magazine storage
Flip-up sights
QD Points
14mm Thread for BET
VSR compatible inner barrel 
Specifications:
Length - 1000mm
Weight - 2950g
Magazine Capacity – 32rnd
Velocity – 450 FPS (with .20g BB)
Joule Output - 1.82
You may also like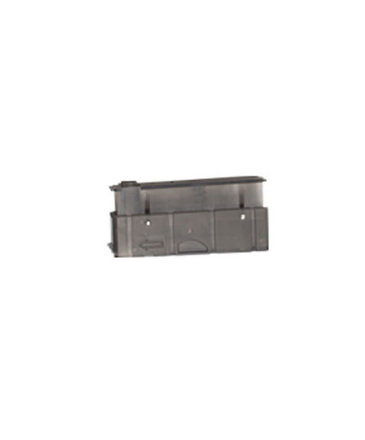 $29.99
ASG official spare magazine for the ASG Steyr Scout Sniper Rifle. 32 round capacity.
© Copyright 2023 Airsoft Extreme

|

Designed & Customized by AdVision

|

Powered by Lightspeed