AEX Custom GOLD FINGER Action Army AAP-01 Gas Blowback Custom Gun
$330.00 $297.00
You saved: 10%
AEX Custom GOLD FINGER Action Army AAP-01 Gas Blowback Custom Gun
Prepare to revolutionize your airsoft game with the Airsoft Extreme AEX Custom AAP-01 Gold Finger. As a product of Airsoft Extreme's 20+ years of industry expertise, this custom gas pistol stands as a testament to innovation and precision. Whether you're a seasoned player or just starting your airsoft journey, the Gold Finger promises an exceptional gaming experience that's hard to match.
With a focus on high-performance design, the Gold Finger offers an optimal blend of speed and precision. Its compact 8-inch length, combined with the Crazy Jet TM GBB Barrel measuring 97mm, ensures you can navigate tight spaces with ease while maintaining pinpoint accuracy. This pistol excels in both CQB scenarios and long-range engagements, giving you the upper hand on the battlefield.
What truly sets the Gold Finger apart is its customization potential. Tailor your AAP-01 with the CTM TAC AAP-01 CNC Upper Set in Electroplated Chrome Gold and the CowCow T01 Magwell, allowing you to create a pistol that's uniquely yours. The package includes not only the Gold Finger itself but also an Action Army AAP-01 Assassin Green Gas Pistol Black and a 22-round magazine, providing you with a complete kit to dominate the competition.
Features
High Performance Design for exceptional speed and precision.
Extensive customization options, including the Electroplated Chrome Gold Upper Set and Magwell.
Complete package with additional Green Gas Pistol and magazine.
Custom Parts List
Specifications
Length 8 inches
Weight 28.3 ounces with magazine
Material Durable construction
Inner Barrel Length 97mm
Muzzle Velocity 310 fps with 0.2g BBs
Firing Modes Semi-Automatic, Fully Automatic
Gas Type Green gas only
System Gas Blowback
Magazine Capacity 22 rounds
Package Includes Pistol, one magazine
You may also like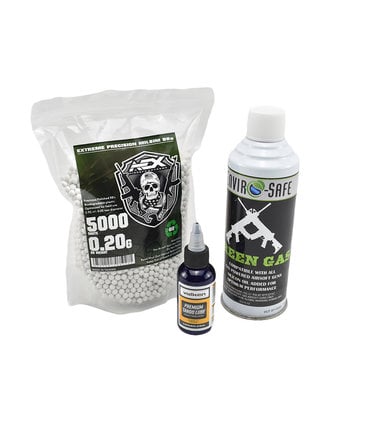 $29.99
Green Gas Pistol Beginner Package
© Copyright 2023 Airsoft Extreme

|

Designed & Customized by AdVision

|

Powered by Lightspeed