iPower 7.4v 5200mAh 2x Nunchuk Li-Ion LiPo Battery Tamiya
$41.99 $37.79
You saved: 10%
iPower 7.4V 5200mah Li-Ion Nunchuk 2x
Get the most performance out of your Electric replica with iPower's 7.4v Li-Ion batteries. Li-Ion batteries offer a significant increase in power and efficiency over NiMH batteries and have become the standard battery type for most of the airsoft community. 7.4 Li-Ion batteries have roughly the same output as a 9.6 NiMH battery but are smaller and easier to fit in replicas with restrictive battery space. Li-Ion batteries are very similar to LiPo batteries and behave in roughly the same ways. Li-Ion batteries generally have a slightly higher power density and slightly lower discharge rate allowing you to keep playing for longer.
WARNING: Li-Ion batteries require a balance charger designed specifically for Li-Ion batteries. Using a charger not designed for Li-Ion batteries will create a chemical imbalance in the battery which could result in injury or destruction of property.
Charger sold separately.
Features:
Higher power density than a 9.6v NiMH battery allowing it to have a larger capacity in a smaller form factor while still retaining roughly equivalent output
5200mAh capacity lasts for ~5000 shots before needing a recharge
Able to power almost all replicas
Pre-installed Mini Tamiya connector for maximum compatibility
Nunchuck design is meant to fit in rear-wired replicas with an AR-style or similar stock
Specifications:
Length x Width: 4.7 x 1.5in
Voltage: 7.4V
Capacity: 5200mAh
Discharge Rate: 10-30C
Connector Type: Mini Tamiya
You may also like
Sale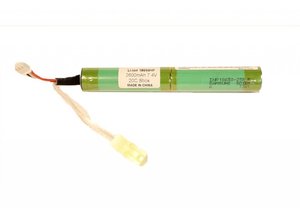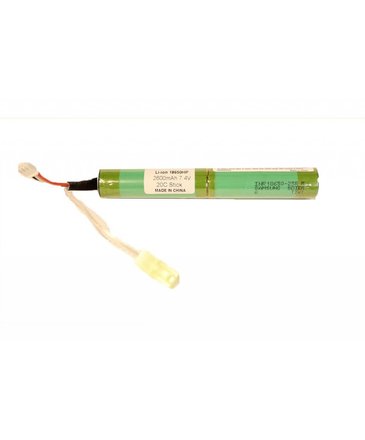 Sale
$23.99 $21.59
Is your battery just not lasting through the day? Upgrade to this Li-Ion Battery pack and enjoy 2600mah of playtime!
Sale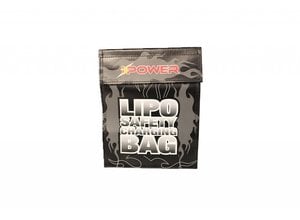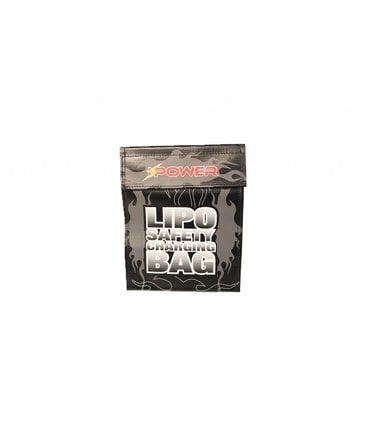 Sale
$6.99 $6.29
Don't just charge your battery out in the open. Put it into an iPower small lipo charge bag to make sure your battery is housed in a fire retardant bag just in case something goes wrong.
Sale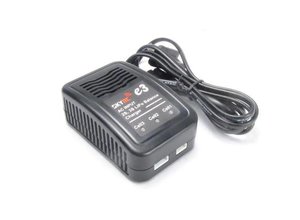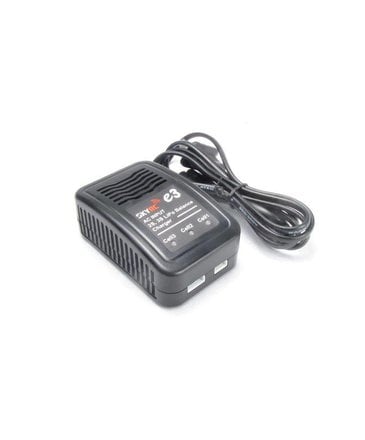 Sale
$22.99 $20.69
What's more important than the battery itself? Making sure it's charged! (And charged properly!)
Sale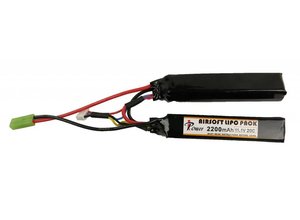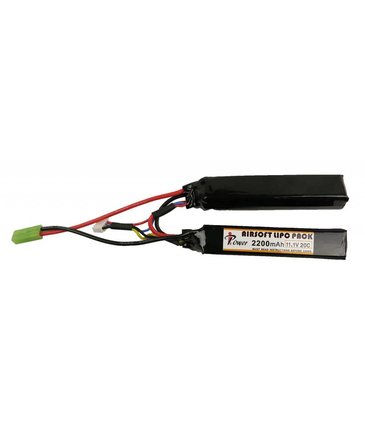 Sale
$32.99 $29.69
The iPower 11.1v 2200mah LiPo nunchuck battery gives the player the power to increase the trigger response and fire rate in a compact package.
Sale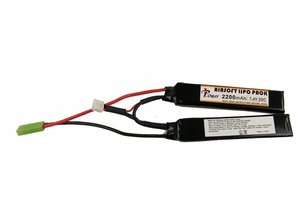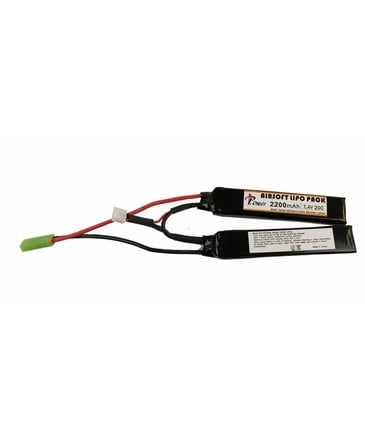 Sale
$21.99 $19.79
iPower 7.4v 2200mah Nunchuck Lipo Battery with Mini-Tamiya connector.
© Copyright 2023 Airsoft Extreme

|

Designed & Customized by AdVision

|

Powered by Lightspeed