Specna Arms M4 AEG Rifle CORE Series M4 KEYMOD PDW SA-C07 Half-Tan
Specna Arms M4 AEG Rifle CORE Series M4 KEYMOD PDW SA-C07
High-Quality Material Construction: This airsoft rifle is composed of a nylon-fiber reinforced polymer receiver, stock pad, and pistol grip for lightweight durability. Metal components, such as the barrel, RIS handguard, flash hider, and enlarged charging handle, enhance its robustness and longevity. Steel parts include the screws, pins, shell ejection window, buffer tube rails, and mock bolt carrier.
ESA™ Quick Spring Change System: The innovative ESA™ system allows quick and easy main spring changes to adapt the power of the rifle for varying playing conditions. This system eliminates the need for workshop access or special tools, providing the user with a versatile range of possibilities and freedom.
Performance and Compatibility: Fully compatible with LiPo and LiFe batteries, this rifle provides a base muzzle velocity of ~380 FPS, making it perfect for medium-range operations. It also includes an M90 spring, enabling muzzle velocity reduction to ~310 FPS for close-ranged and indoor operations. The 6.03 mm precision barrel enhances the rifle's range and accuracy, and the rotary Hop-Up chamber ensures seamless performance.
Features
Nylon-fiber reinforced polymer receiver for lightweight durability
ESA™ Quick Spring Change System for versatile power adaptation
Fully compatible with LiPo and LiFe batteries
Includes M90 spring for close-ranged operations
6.03 mm precision barrel for enhanced range and accuracy
Rotary Hop-Up chamber for seamless performance
Specifications
Overall Length: 25.25"-28.75" (collapsed and fully extended)
Weight: 5.4 lbs
Outer Barrel Length: 9 inches
Barrel Thread: 14mm CCW
Inner Barrel Length: 260mm
Inner Barrel Diameter: 6.03mm
Muzzle Velocity: ~310 FPS (with M90 spring), ~380 FPS (with manufacturer-installed spring)
Fire Modes: Safe/Semi/Full
Color: Half-Tan
Gearbox: Equipped with 8mm slide bearings
Magazine Capacity: 1x 380 Hi-cap S-mag
Package Includes: Replica, S-MAG hi-cap magazine, additional M90 main spring, set of flip-up sights, user's manual, QC certificate.
You may also like
Sale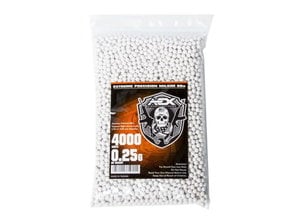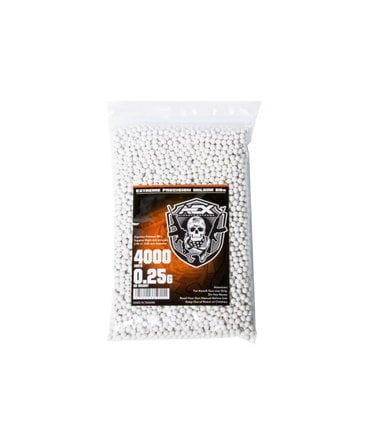 Sale
$11.99 $10.79
Do you feel like your current BBs are too light for your AEG that they fly everywhere? Order a bag of our 0.25g BBs and watch the trajectory of your BBs fly more straight and level than before.
© Copyright 2023 Airsoft Extreme

|

Designed & Customized by AdVision

|

Powered by Lightspeed