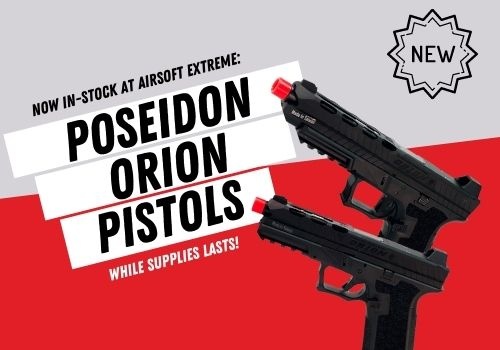 AEX is proud to present the Orion Combat No. 2 and No. 3 pistols.  These high-end, gas blowback pistols offer a host of features found only on upgraded, more expensive pistols.  Poseidon built these guns from the ground up for durability and incorporated many of their proprietary parts to enhance the performance of the pistol.  The gun fits amazingly well in the shooters hand, and will fit in most Glock pattern holsters.  How they achieved this is by licensing POLYMER P80's proprietary frame design and adding a CNC machined, aircraft grade aluminum slide onto it.  The slide is already cut for an RMR plate (sold separately), which is designed to accept over 50 styles of RMR sights.  The pistol also includes two sets of fixed sights: a standard 3 dot sight set, and their CYCLOP fiber sights designed for quick aiming and raised for use with silencers and tracer units.  The outer barrel is aluminum, and is threaded to accept an 11mm clockwise adapter – standard for most aftermarket tracer units.  The frame has four weaver slots which allows for installation of almost any aftermarket illumination and aiming accessory.
Inside the gun, Poseidon incorporated an internal selector switch for SEMI and FULL AUTO capability…much like the AAP01.  Their ICE PICK valve with anti-icing technology is standard in the gun, and that allows the gun to shoot even when the magazines are ice cold.  The barrel is their proprietary AIR CUSHION design, which increases the range of the gun by conforming the air flow around the BB as it travels down the barrel for enhanced hop up spin.   
Like with any gas gun, velocity ultimately depends on the temperature and type of gas you use, but the gun is capable of handling both green gas and CO2.  Initial testing shows velocity to range from 290 fps to 310 fps, but this drops off quickly with full auto fire. 
Given the looks and the features, this gun is a fantastic value of the price.  Add this to your collection, or make this your first gas blowback pistol!  You won't be disappointed!