Poseidon Orion No.3 Combat GBB Pistol Black
$199.99 $179.99
You saved: 10%
Poseidon Orion No.3 Combat GBB Pistol Black
The Orion No. 3 Combat gas blowback pistols brings all the in-demand features of a gas blowback airsoft pistol into one attractive, affordable package.  Poseidon started with a licensed Polymer P80 frame design that has been hugely popular in the real steel world.  The polymer frame is strong, lightweight, and very comfortable to hold.  It also has a four slot weaver rail under the dust cover, allowing you to mount any available lighting or aiming accessories.  The CNC aluminum slide features many aesthetic and lightening cutouts for fast cycling, and is precut to accept a RMR mounting plate...a must have for all modern combat pistols.  You can also select between full- and semi-auto with a switch behind the gas blowback housing.  The pre-threaded barrel requires an adapter to fit 14mm counterclockwise silencers, but it is ready to accept most tracer units on the market (we highly recommend the Armin Nano or the Acetech Lighter R) that include an 11mm male clockwise adapter.
As an airsoft combat pistol, the Orion is an unrivalled package.  The undercut trigger guard and aggressive grip texturing ensures positive control of your pistol in any weather condition, gloves or no gloves.  The installed Cyclops Sight provides fast target acquisition in CQB situations, while a conventional 3 dot sight set is also included.  Internally, Poseidon has included parts to ensure it is one of the most accurate gas blowback pistols in the airsoft market, including their proprietary AIR CUSHION barrel that directs gas flow from the pistol for enhance hop up energy and centering the BB in the barrel.  It also uses a wide hop up arm to ensure even hop up pressure to increase accuracy.  The loading nozzle contains their proprietary ICE PICK valve, the design of which ensures the gun fires in a wider range of temperature conditions than typical gas blowback guns.  Poseidon has posted a video where they fired more than FIFTY magazines straight out of their Orion Combat without the gun freezing up (of course, nothing can prevent magazines from freezing up).
The Orion Combat is a fantastic choice for beginners and veterans, providing an advanced, capable pistol system for training or airsoft combat.  
Features:
Licensed Polymer P80 railed frame with aggressive no-slip grip texturing
Full/semi auto selector switch in gas blowback housing
Full logo CNC aluminum metal slide with cutout for RMR mounting plate (not included)
Aluminum outer barrel with 11mm clockwise female threading for tracer units
CYCLOPS front and rear sight
AIR CUSHION 6.03mm inner barrel
ICE PICK valve for anti-icing function
Extended magazine release
Fully adjustable hop up
Trigger mounted safety
Specifications:
Overall Length: 8.4 inches
Weight: 1.55 lbs
Inner Barrel Length: 122mm
Muzzle Velocity: 315 fps with 0.2g BBs
Gas Type: Green Gas
System: Gas Blowback
Color: Black
Magazine Capacity: 25
Package Includes: Gun, Magazine, Spare 3 dot sight set, Manual
You may also like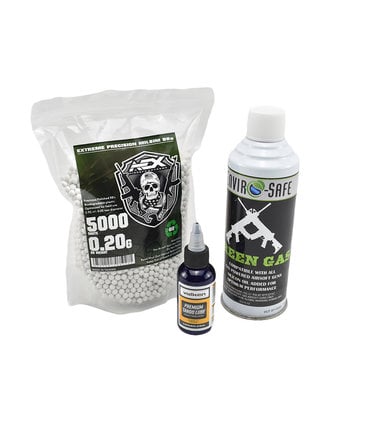 $29.99
Green Gas Pistol Beginner Package
© Copyright 2023 Airsoft Extreme

|

Designed & Customized by AdVision

|

Powered by Lightspeed