Nine Ball TM Hi-Capa 5.1 TDC Threaded Outer Barrel
$89.99 $80.99
You saved: 10%
Nine Ball Hi-Capa 5.1 TDC Threaded Outer Barrel
CNC Aluminum outer barrel compatible with Tokyo Marui Hi-CAPA 5.1 gas blowback pistol. Enables hop-up adjustments from the topside screw without the disassembly of the slide. The hop-up pressure is applied from the top center of the chamber, enabling stable hop-up compared to conventional hop-up units. The combination of rigid aluminum alloy construction and a non-tilting design allows for more consistent, accurate shots. The muzzle tip is threaded in 14mm CCW, compatible with various muzzle accessories. The fixation method has been improved to minimize outer barrel misalignment.
Features
Top Dead Center (TDC) hop-up adjustments without removing the slide!
Adds 14mm CCW muzzle thread!  lMade with high-precision, lightweight aluminum CNC machining!
You may also like
Sale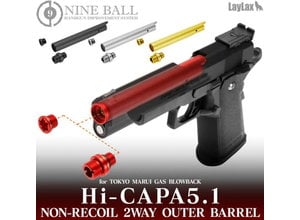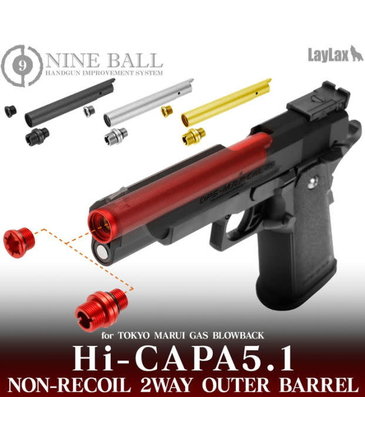 Sale
© Copyright 2023 Airsoft Extreme

|

Designed & Customized by AdVision

|

Powered by Lightspeed