AEX Custom Honeycomb Hicapa Orange
$594.88 $535.39
You saved: 10%
AEX Custom Honeycomb Hicapa Orange - Upgrade Your Game!
If you're an avid airsoft enthusiast looking to take your game to the next level, the AEX Custom Honeycomb Hicapa Orange is your golden ticket. This meticulously crafted Tokyo Marui Hi Capa is a masterpiece that elevates your airsoft experience to new heights. At Airsoft Extreme, with over 20 years of industry expertise, we've handpicked and assembled the finest components to create this ultimate custom airsoft pistol.
Designed with precision and passion, this Hi Capa 4.3 is a marvel of engineering. The heart of this beast features a Tokyo Marui HI CAPA 4.3 Tactical Custom Gas Blowback Airsoft Pistol in sleek black, providing a solid foundation. But what truly sets it apart are the carefully chosen enhancements:
Features
EDGE Custom HIVE Standard Slide in vibrant orange for improved durability and style.
EDGE Custom "HEXA" Aluminum Outer Barrel for enhanced accuracy and a distinctive look.
Maple Leaf Hop-up Set and Autobot Hopup Bucking for precise control over your shots.
Custom "Twister" Guide Rod for added stability during rapid fire.
AIP 7075 Aluminum Grip Screws for both form and function.
With an inner barrel length of 100mm, this custom Hicapa offers superb accuracy. It achieves a muzzle velocity of 310-330 fps with 0.2g BBs, making it ideal for a range of airsoft scenarios. Plus, the gas blowback system ensures a satisfying recoil feel. This pistol operates exclusively on green gas, delivering consistent performance.
Parts
Specifications
Length 8 inches
Weight 34.5 ounces with magazine
Material Durable metal and high-quality polymer
Color Silver/Orange
Magazine Capacity 31 rounds, 6mm airsoft
Package Includes Pistol, one magazine
You may also like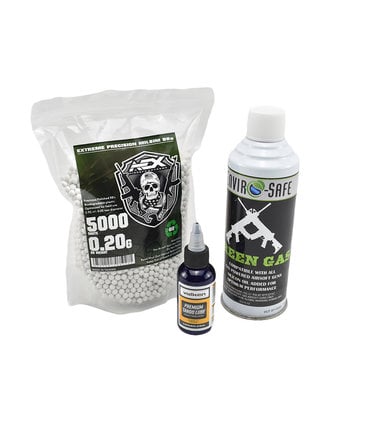 $29.99
Green Gas Pistol Beginner Package
© Copyright 2023 Airsoft Extreme

|

Designed & Customized by AdVision

|

Powered by Lightspeed